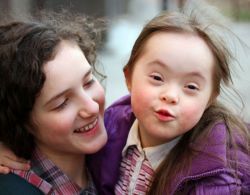 Down syndrome is one of the things that worries many parents for fear of being infected by the fetus, which is due to a lot of damage caused by changes in the chromosomes. Although this syndrome is linked to the age of the mother, many people are looking for the possibility of detecting this syndrome even though there is no medical treatment. To learn more about the symptoms of Down syndrome during pregnancy, you can only follow up on this topic through my health.

Symptoms of Down syndrome during pregnancy

Doctors confirm that the mother does not feel any symptoms may be evidence of the fetus in the custody of the so-called Down syndrome, but the high age of the mother may be one of the main reasons that lead to the injury of the fetus this problem.

Therefore, the pregnant mother can not know whether her fetus is suffering from this problem or not only by undergoing the laboratory tests required by the doctor, especially for amniotic fluid, which shows the number of chromosomes in the fetus, therefore, any defect in this matter may be conclusive evidence of injury Child with this syndrome.

These laboratory tests can only be performed in the 17 and 18 weeks of pregnancy. The method of inserting the needle into the amniotic fluid is safe and poses no risk to the way the pregnancy is performed. If you take this test earlier, it is likely that you will have an abortion.

This problem can also be identified in the fetus through the pregnancy of the pregnant woman to check blood during the fifteenth week of pregnancy to determine if there is any increase in the proportion of hormones or proteins in the body.

The doctor can detect the problem during an ultrasound scan, especially when a shortness of the femur or thickness of the skin is detected behind the neck or by some congenital heart defects.