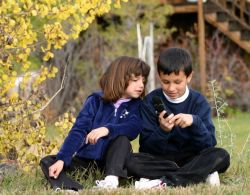 Mobile phone turned into one of the most important things in the life of many children and more things that can not be abandoned, because of the many facilities which may give it to him, or even to his family that in terms of the ability to communicate in all places and times, or even the ability to play wherever the child . However, in spite of the enormous benefits of the mobile phone to the child, but she carries many negative things. Hence, we will give you on this subject all you need to know about the negative impact of mobile phone on the child.
The negative impact of mobile phone on a child
There are a lot of negative results that may be due by mobile phone on the child, and perhaps most notably the possibility of child abuse on the mobile phone, through habitual children to use or play in its applications, or chat, or even talk with their friends. This is not to forget that what this may cause annoyances for many Ac_khasa especially since many kids had baptized often the request of strange figures that may cause consternation and embarrassment to many people, and raises concerns of people recipients of messages and calls by the child .
This is not to forget that the child may be exposed to dangerous sudden incidents in the event of their preoccupation with the cell, both while they walk in the street, or wandering around the house, and the child may be exposed to oblivion in the event of concern using a mobile phone, either forgetting homework, or forget things he has requested of them by a family member.
But the negative consequences of the cellular phone is not limited to these points Vqtun but that recent studies have shown that mobile phone negative effects on children's health, noting that the use of mobile phones can cause cancer in humans, and therefore as a result of exposure of the child for long periods to wireless radiation which It may also constitute a threat to the human brain through the radio waves launched by mobile phone, which may lead to the spread of cancerous tumors.