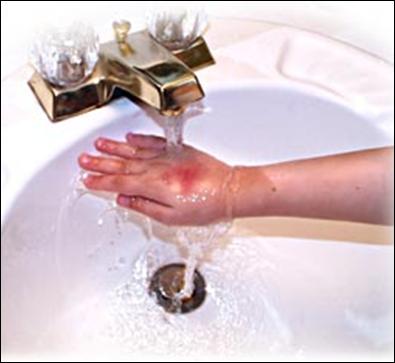 Children are exposed to a lot of minor accidents and serious sometimes, so you Preparedness and maintain calm as much as possible in the event of access. It accidents that could worry any burns or are of different grades. Of course, the basic choice is yours must be the child was taken to the hospital to get proper treatment, but at the same time you have to be willing to learn how to aid the child initially so as not to sour his condition. Often mothers committed common mistake a fat burn ointments place, what is difficult to diagnose the burning process by a physician,so Know to deal with different types of burns.
The right steps

The most common are burns caused by the sun's rays, and
children often exposed in the summer . If they occur, the child watering fluids in large quantities, and put it in cold water or lukewarm bathtub filled. It's good to
Anoints
place burning acidic liquid like milk or vinegar, then give him the tablets of anti-inflammatory medication such as aspirin, it relieves pain and glare. In case your child burned by the fire has caught the clothes worn,
Rolling him to the ground
and Strip off his clothes, and then to the clean sterile cloth and wet. Then, remove the clock and jewelry that was worn gently, so as not to occur to him scratches. And make sure that his heart beats regularly and that it breathes, and only national recovery process that must be trained by each mother.
Necessary warning

There are also burns caused by chemical substances, So try not to touch
substances , and wash your child well and with amount of
water
rain to Take off him deposition of these materials, and then cover it with a clean
cloth
to keep up her body temperature until you reach him to the hospital. The electrical burns very serious because it "malicious" as it caused fractures are not visible and can occur imbalance in the tissues. First separate it from the power supply by a board or a stick or any means made of wood. And turn off the power, if possible, and then proved that every member s
uspected
broken before being taken to the hospital, and make sure that he is not any deep burn due to electric shock. Always remember that your child's fate in your hands,
try to act the right way at the right time.